entry point NORTH
farmstead Klein Zwaanhof
Kleine Poezelstraat
8904 Boezinge
1/04 - 15/11: open from 10 am to 5.45 pm
16/11 - 31/03: open from 10 am to 4.45 pm
The northern information point serves the Ypres Salient from Boezinge to Wieltje. During the Second Battle of Ypres, from 22 April 1915 onwards, this was one of the most fiercely fought battlefields. A film shows the creation of the front lines using historical footage and paying attention to the relics, monuments and cemeteries still present.
During the development of the nearby industrial estate, more than 200 bodies of fallen soldiers were salvaged and thousands of archaeological finds were made.
Moreover, this is an environment where exceptionally many literary figures from WW1 passed by.
entry point EAST
next to Hooge Crater Museum
Meenseweg 467
8902 Zillebeke

permanently accessible
This information point highlights the eastern part of the Ypres Salient, on both sides of the Menin Road, from the Zonnebeke Road to Hill 62. A film with unique historical footage illustrates the chaotic front formation in the area and shows how the still intact landscape relics on the slope of Bellewaerde came into being.
The entry point is housed in the toilet building of the former school and is located right next to the rebuilt chateau 't Hooghe, and opposite the impressive Hooge Crater Cemetery. Before the war the countryside around Ypres was dotted with 45 chateaus and country houses, surrounded by beautiful parks. During the war almost all of them were destroyed.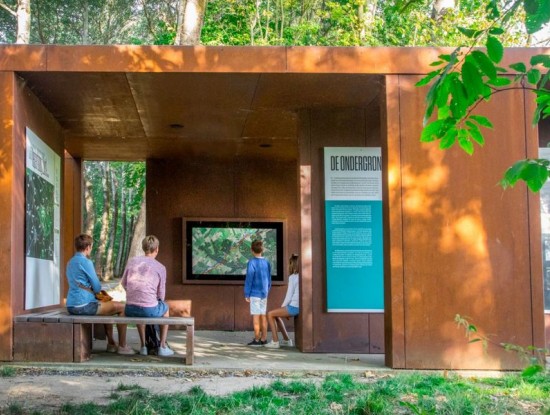 entry point SOUTH
provincial estate De Palingbeek
Palingbeekstraat 18
8902 Zillebeke

permanently accessible
The entry point is located in the middle of De Palingbeek provincial estate and provides information on the entire southern part of the Ypres Salient: from Hill 60 to Sint-Elooi. A film illustrates how the bucolic landscape was transformed into one of the most dramatic war landscapes in Belgium, with many, large and small craters and the typical small cemeteries.
Between Bellewaerde and Sint-Elooi are numerous relics of the underground mining war that was fought there between 1915 and 1917. They concern the sites of Sint-Elooi, The Bluff, The Caterpillar, Hill 60, Sanctuary Wood, Hoge and Bellewaerde.
APP memorial trees
After the destruction of the Westhoek, towns, villages, fields, meadows and forests were rebuilt and restored. Yesteryears' frontlines have disappeared, but 305 memorial trees mark the location of the most motionless frontlines from the period 1915-1917. Using dozens of aerial photographs, this app puts these young elms back in the historical landscape of WW1.