educational program 16-18 years
in advance
Do you come as a teacher with a class group? Then don't forget to book your visit. On presentation of your booking confirmation, you can come and prepare your visit free of charge, or make an appointment with the educational service to discuss your own ideas or proposals.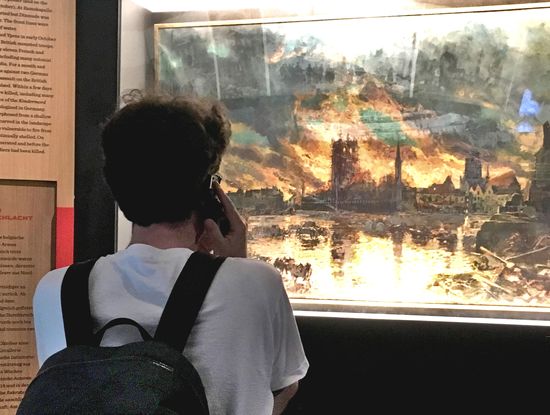 look & listen
With the audioguide, your pupils visit the museum independently. The exhibition is explored in 40 consecutive listening points. But those who want more, will find additional information and explanations on 31 objects and themes all along the way.
exploration tour >
in-depth tour >
€ 2 /pp.
the Great War
During this workshop, some themes from the museum are explored in depth. Posters, photographs, objects and witnesses raise questions and point to answers. What is and how does propaganda work? How did the use of weapons evolve, and what role did scientists play in it? And do we stand up for peace today?
€ 35
war and trauma
Images, witnesses and objects sketch the evolution of medical care in wartime. The improvisation and chaos of the early period contrasts sharply with the later industrial character of the war. Weapons are perfected to create even more misery. In addition to physical injuries, total warfare causes psychological suffering, drags civilians along, and aims at the complete destruction of the whole society.
€ 35

guided visit
With a silent system, an educational guide takes your group through the museum. The guided tour lasts one hour, but be sure to allow some time to explore the museum on your own afterwards.
€ 55
city at war
From mid-October 1914 Ypres was continuously shelled. Hundreds of inhabitants and dozens of aid workers had to cope in difficult circumstances. At the beginning of May 1915 the civilian population was forced to leave the city and Ypres became a large military centre on the way to and from the front. A few soldiers and civilians wrote down their experiences and thus edited this town walk.
€ 70
bike ride
A trench war has everything to do with the landscape. Small or large differences in height make the difference between seeing or being seen. Cycling is the ideal way to experience this at first hand. From March to October, and if you foresee a minimum of three hours, an educational guide will be happy to work out a suitable route for you, with or without a picnic stop along the way.
€ 105 (€ 35 per extra hour)
from front to hospital
When it became clear that the war would make many victims, the organization of the medical service became better and more institutionalized. The wounded were taken from the front via intermediate aid stations to hospitals in the rear area. Cemeteries along these evacuation routes are their last silent witnesses.
42 km, among others:
- landscape site Hill 60
- Lijssenthoek Cemetery
€ 105
(It is advisable to have this tour preceded by the workshop war and trauma.)
"I must go over the ground again," Edmund Blunden wrote in his memoirs. Today that is still an invitation to go out into the former war landscape. The worksheets below can help you on this exploration.